On a mission
for better health
On a mission
for better health
On a mission
for better health
On a mission
for better health
On a mission for better health
We believe that access to safe and affordable healthcare is a human right. Since 1975 we have contributed to improving global health by supplying quality medicines and medical devices to people all over the world.
OUR SUSTAINABILITY COMMITMENTS
Now launching
Essential medicines and medical supplies available from stock for immediate delivery.
We recognise the critical need to promptly meet our customers' demands for healthcare products when a crisis hits.
Therefore, we have taken significant steps to offer a wide range of essential medicines and medical supplies directly from stock, and thereby be able to arrange fast transportation from one of our warehouses in India and Denmark.
Learn more about our recent initiative to ensure a prompt response to your healthcare needs here.
Download product catalogue.
Upcoming exhibitions and conferences 2023
At Missionpharma, we are committed to advancing global healthcare solutions in the pharmaceutical industry. As part of our ongoing efforts to stay at the forefront of healthcare developments, we are excited to announce our participation in exhibitions and conferences in the coming months.
These events provide us with the opportunity to engage with industry leaders, experts, and stakeholders, sharing insights and building valuable collaborations. It's a chance for us to showcase our dedication to improving healthcare access worldwide through our range of quality products and services.
This week we participate in: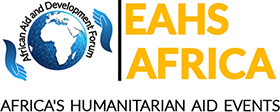 EAHS Africa |  Nairobi, Kenya |   23-24 November 2023

Keep an eye on LinkedIn for updates and detailed information about the event. We look forward to connecting with you at the conference to work together to make healthcare more accessible and impactful worldwide.
We are Missionpharma
For nearly five decades, we have impacted people around the world with our products and our services. As one of the world's largest pharmaceutical wholesalers, we work to provide access to safe healthcare for everyone. Every year more than 100 million people worldwide are treated with medicine from Missionpharma.
We fundamentally believe that access to safe and affordable treatment is a human right, why our core focus is to provide quality medicine and medical devices to vulnerable communities all over the world.
We are determined to make a positive impact on the lives of millions of people globally and to prove our purpose of being on a mission for better health. 
In 2022 Missionpharma delivered 30,000 cbm of healthcare products to patients worldwide. This corresponds to 1,200 containers per year or more than 3 containers per day. 

Hospital ships that transform lives
In 2023 Missionpharma partnered up with the international humanitarian organisation, Mercy Ships, which operates two hospital ships that deliver free surgical operations to the poorest people in Africa.
For many people in low-income countries, surgery is simply not an option, either because it doesn't exist or it is inaccessible. Onboard the two floating hospital ships, Mercy Ships provides safe surgery for free, transforming thousands of lives in every country it visits.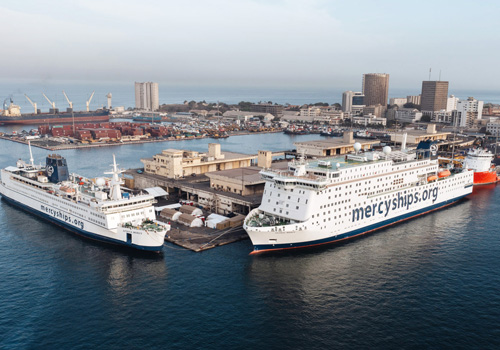 Mercy Ships operates two large non-governmental hospital ships, the Africa Mercy and the Global Mercy. The ships bring necessary medical care, surgeries and capacity building to Africa and offer in total 12 operating theatres and nearly 300 patient beds.
Missionpharma's donation to Mercy Ships in financial year 2022/23 corresponds to 32 life-changing operations on board the ships.
Sustainability report 2022-23
We are extremely happy to announce the release of our new sustainability report 2022-23. The report presents our Environmental, Social, and Governance priorities and progress in line with the UN Global Compact's Ten Principles for human rights, labour, environment and anti-corruption supported by the UN Sustainable Development Goals.
At Missionpharma we are committed to running a sustainable business and to always taking active responsibility for the society and the environment we operate in.
To us, this means that we add value to society by delivering healthcare products to millions of patients every year, while constantly striving to do business in a financially, environmentally, and socially responsible way. We consider an active and strategic approach to sustainability a key driver to delivering on our purpose.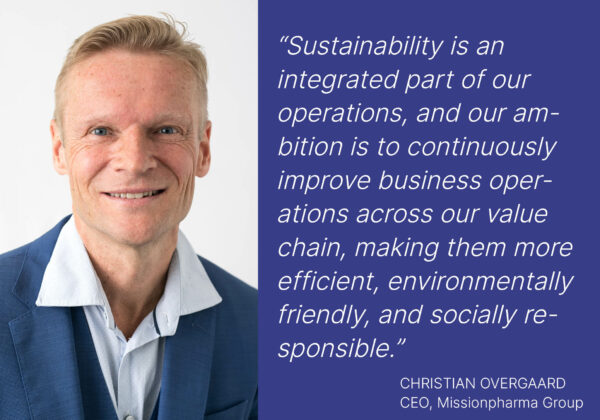 Participant of the UN Global Compact
Missionpharma has been active participant of the UN Global Compact since 2018, and we commit to the principles of responsible business conduct promoted by the UN Global Compact and supported by the Sustainable Development Goals.
Read more about our sustainability commitments here.

Our purpose statement
Missionpharma has always been powered by strong values and a commitment to make a difference. We believe that our purpose and our values tie us together as a company and drive us to keep aiming for making an impact.
From time to time we revisit the wording of our own purpose to make sure that we communicate the driving forces of our company in a relevant manner.
Therefore, we have phrased a new statement to explain our reason for being as a company. We call it: On a mission for better health.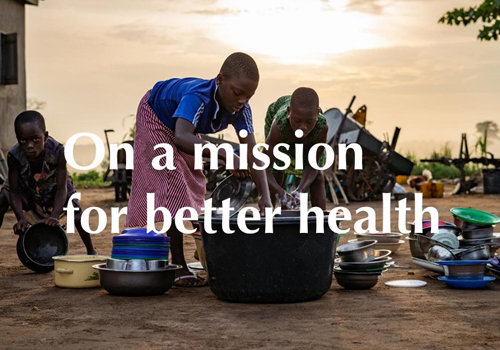 OUR PURPOSE STATEMENT

On a mission for better health
We believe that access to safe and affordable healthcare is a human right. Since 1975 we have contributed to improving global health by supplying quality medicines and medical devices to people all over the world.

We strongly believe that purpose drives performance and that we are better equipped to make a positive impact on society with a meaningful and identifiable purpose. We look forward to making our commitments come to life together with our employees and partners.
See our company values here.
Committed to making an impact
Missionpharma is a leading supplier of generic pharmaceuticals, medical consumables, hospital equipment and medical kits to public and private institutions, international development organisations and the UN. Every year we supply medicines to treat more than 100 million people worldwide.
We are committed to making an impact. We provide tailored healthcare solutions built on a deep insight and decades of experience. We have offices in Denmark, India, China and Zambia and employ over 150 people. Our head office is based in Denmark, where we employ 60 people and from where our overall business activities are managed.
Since 2012, Missionpharma has been part of CFAO Healthcare, the healthcare division of CFAO Group – a major distributor of international brands in Africa. The Group has wholesale operations and local branches all over Africa.
Since 1975 Missionpharma has provided safe and affordable healthcare products to patients all over the world. We all take great pride in doing what we do to contribute to strengthening global healthcare.

Christian Overgaard, CEO, Missionpharma Group