On a mission
for better health
On a mission
for better health
On a mission
for better health
On a mission
for better health
On a mission for better health
We believe that access to safe and affordable healthcare is a human right. Since 1975 we have contributed to improving global health by supplying quality medicines and medical devices to people all over the world.
OUR SUSTAINABILITY COMMITMENTS
Donation of sutures to Ukraine
The world around us is constantly changing and with the ongoing war in Ukraine, humanitarian needs are multiplying and spreading by the hour.
Through our partnership with the Danish voluntary humanitarian organisation, Global Medical Aid (GMA), Missionpharma is supporting the people in Ukraine with a donation of 145,000 surgical sutures. Sutures constitute a critical function in any surgical procedure, and this donation enables the local health personnel to perform up to 30,000 operations.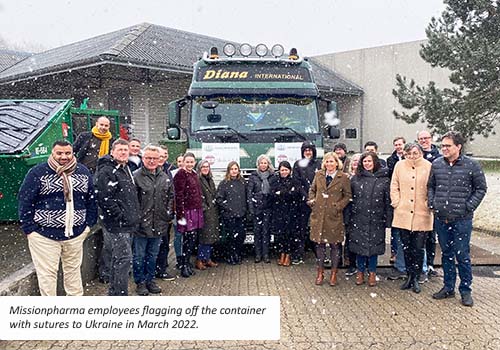 Orthopedic surgeon, Finn Warburg, has more than 40 years' experience with war surgery and has been working as staff surgeon with the Danish Emergency Management Agency for decades. He states:
"Effective surgery is impossible without sutures. The present situation in Ukraine has raised the need for life- and limb-saving surgery for victims of war and other critically ill patients. Lack of sutures in the hospitals would create life-threatening situations. The dispatchment of the great amount of sutures is a key function in support of the Ukrainians' fight for their freedom."
Our purpose statement
Missionpharma has always been powered by strong values and a commitment to make a difference. We believe that our purpose and our values tie us together as a company and drive us to keep aiming for making an impact.
From time to time we revisit the wording of our own purpose to make sure that we communicate the driving forces of our company in a relevant manner.
Therefore, we have phrased a new statement to explain our reason for being as a company. We call it: On a mission for better health.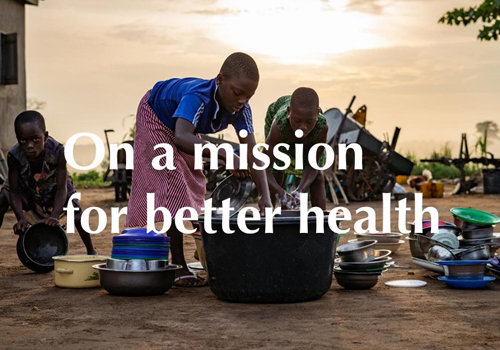 OUR PURPOSE STATEMENT

On a mission for better health
We believe that access to safe and affordable healthcare is a human right. Since 1975 we have contributed to improving global health by supplying quality medicines and medical devices to people all over the world.

This is nothing new, of course. It's in our name, it's in our DNA. We have always been on a mission to make a difference with our products, our services and our people – for the benefit of patients globally. What's new is that we want to talk more about it and share stories about the impact we make. So stay tuned and learn more about how we are on a mission for better health.
View our company values here.
Communication on Progress report 2021
We are happy to announce the release of Missionpharma's third UN Global Compact Communication on Progress (COP) report.
Sustainability is an integrated part of our operations, and our ambition is to continuously improve business operations across our value chain, making them more efficient, environmentally friendly and socially responsible.
Our 2021 COP report presents the results of our efforts to generate measurable and beneficial development impacts in line with the Ten Principles for human rights, labour, environment and anti-corruption and aligned with the UN Sustainable Development Goals (SDGs).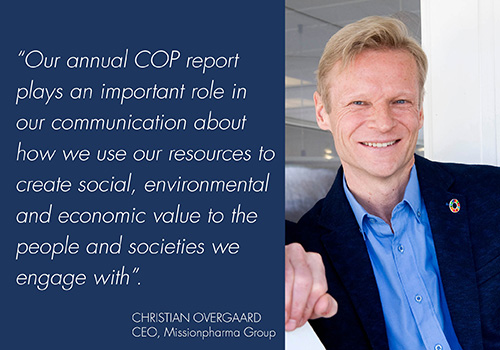 We are proud to have been a signatory to the UN Global Compact since 2018. As a global business with operations and presence in developing countries worldwide, we not only have an opportunity – but also an obligation – to address, influence, support and change global healthcare issues. We work passionately to advance global healthcare and we run our business with integrity and respect for the communities in which we operate.
Read more about how we incorporate the principles of the UN Global Compact into our strategies and activities in our 2021 Communication on Progress (COP) report. The report is also publicly available on the UN Global Compact website here.
ABOUT  THE UN GLOBAL COMPACT
The UN Global Compact is an organisation that aims to mobilise a global movement of companies and stakeholders, who are committed to sustainability. It requires participating companies to produce a Communication on Progress (COP) report – a public annual report, which demonstrates the company's corporate sustainability through embedding the Global Compact's Ten Principles into their business.
Read more about our sustainability commitments here.
Committed to making an impact
Missionpharma is a leading supplier of generic pharmaceuticals, medical consumables, hospital equipment and medical kits to public and private institutions, international development organisations and the UN. Every year we supply medicines to more than 100 million people worldwide.
We are committed to making an impact. We provide tailored healthcare solutions built on a deep insight and decades of experience. We have offices in Denmark, India, China and Zambia and employ over 150 people. Our head office is based in Denmark, where we employ 55 people and from where our overall business activities are managed.
Since 2012, Missionpharma has been part of Eurapharma, owned by the CFAO Group – a major distributor of international brands in Africa. The Group has wholesale operations and local branches all over Africa.
Since 1975 Missionpharma has provided safe and affordable healthcare products to patients all over the world. We all take great pride in doing what we do to contribute to strengthening global healthcare.

Christian Overgaard, CEO, Missionpharma Group