On a mission
for better health
On a mission
for better health
On a mission
for better health
On a mission
for better health
We want to deliver social, environmental and economic value to the people and societies we engage with. We call this approach our sustainability commitment.
OUR SUSTAINABILITY COMMITMENTS
Communication on Progress report 2021
We are happy to announce the release of Missionpharma's third UN Global Compact Communication on Progress (COP) report.
Sustainability is an integrated part of our operations, and our ambition is to continuously improve business operations across our value chain, making them more efficient, environmentally friendly and socially responsible.
Our 2021 COP report presents the results of our efforts to generate measurable and beneficial development impacts in line with the Ten Principles for human rights, labour, environment and anti-corruption and aligned with the UN Sustainable Development Goals (SDGs).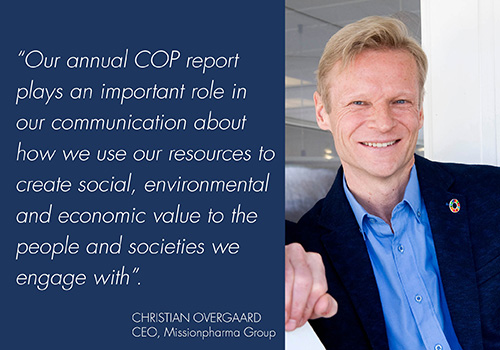 We are proud to have been a signatory to the UN Global Compact since 2018. As a global business with operations and presence in developing countries worldwide, we not only have an opportunity – but also an obligation – to address, influence, support and change global healthcare issues. We work passionately to advance global healthcare and we run our business with integrity and respect for the communities in which we operate.
Read more about how we incorporate the principles of the UN Global Compact into our strategies and activities in our 2021 Communication on Progress (COP) report. The report is also publicly available on the UN Global Compact website here.
ABOUT  THE UN GLOBAL COMPACT
The UN Global Compact is an organisation that aims to mobilise a global movement of companies and stakeholders, who are committed to sustainability. It requires participating companies to produce a Communication on Progress (COP) report – a public annual report, which demonstrates the company's corporate sustainability through embedding the Global Compact's Ten Principles into their business.
Read more about our sustainability commitments here.
Missionpharma's sustainability report among the best!
We are proud to announce that Missionpharma is among the five companies on the list of the best sustainability reports in the Danish SME segment (Small and Medium-sized Enterprises w. 250 employees and below).
The SMV COP 2020 (see link for press release in Danish) is an annual initiative organized by Global Compact Network Denmark and FSR (Association of Danish Auditors). The purpose of the initiative is to recognize the SMEs, which are particularly noted for their reporting on sustainability and for providing reliable and useful information about their work with the UN Global Compact Ten Principles and the Sustainable Development Goals (SDGs).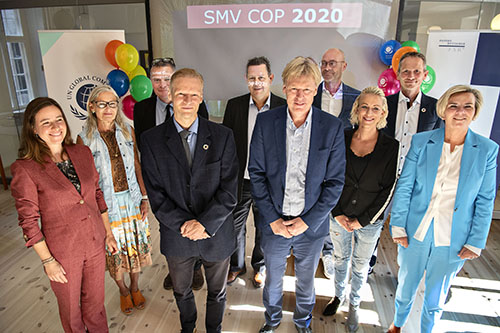 The committee specifically recognizes Missionpharma's Communication on Progress (COP) report for being well-written and for clearly presenting our policies, progress, results and ambitions for our sustainability work. Further, we are noted for transparency in our performance and target measurements, which provides confidence in the data provided.  
"Our annual COP report plays an important role in our communication about our impact on society. We are extremely proud of this recognition and we are happy to serve as an inspiration for other companies", says Christian Overgaard, CEO.
Committed to making an impact
Missionpharma is a leading supplier of generic pharmaceuticals, medical consumables, hospital equipment and medical kits to public and private institutions, international development organisations and the UN.
We are committed to making an impact. We provide tailored healthcare solutions built on a deep insight and decades of experience. We have offices in Denmark, India, China and Africa and employ over 150 people. Our head office is based in Denmark, where we employ 60 people and from where our overall business activities are managed.
Since 2012, Missionpharma has been part of Eurapharma, owned by the CFAO Group – a major distributor of international brands in Africa. The Group has wholesale operations and local branches all over Africa.
Since 1975 Missionpharma has provided safe and affordable healthcare products to patients all over the world. We all take great pride in doing what we do to contribute to strengthening global healthcare.

Christian Overgaard, CEO, Missionpharma Group