We accelerate
the new Africa
A world leader in safe and affordable healthcare
We accelerate
the new Africa
A world leader in safe and affordable healthcare
We accelerate
the new Africa
A world leader in safe and affordable healthcare
We accelerate
the new Africa
A world leader in safe and affordable healthcare
We want to deliver social, environmental and economic value to the people and societies we engage with. We call this approach our sustainability commitment.
OUR SUSTAINABILITY COMMITMENTS
New CEO of Missionpharma
We are pleased to announce that we have appointed Christian Overgaard as the new CEO of the Missionpharma Group from 1. September 2018. Christian will take over from Kim Ginnerup, who has lead Missionpharma through the past 30 years of great achievements. Kim will remain with Missionpharma as Vice Chairman of the Board.
Christian comes from a position as President of Danfoss China and has 15 years of experience from leading management roles and earlier 10 years of management consulting. As future CEO, Christian brings us a strong international profile and a proven track record of building successful teams across cultures. He is married and has three children.
We wish to thank Kim for his great efforts and welcome Christian to the Missionpharma team. We look much forward to continuing our efforts to accelerate the new Africa and other developing regions through innovative solutions with our business partners.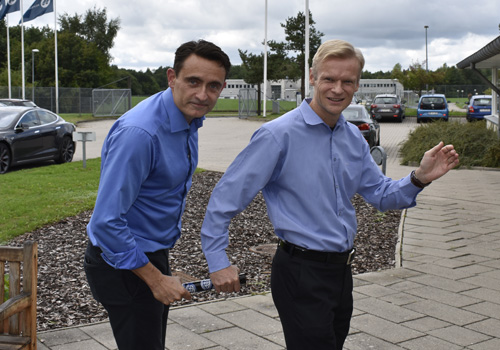 Committed to making a difference in Africa
Missionpharma is a leading supplier of generic pharmaceuticals, medical consumables and hospital equipment and the world's largest manufacturer of medical kits to public institutions worldwide.
We are committed to making a difference in Africa. We provide tailored healthcare solutions built on a deep insight and decades of experience. We have offices in Denmark, India, China and Africa and employ over 200 people. Our head office is based in Denmark, from where our overall business activities are managed.
Since 2012, Missionpharma has been part of Eurapharma, owned by the CFAO Group – a major distributor of international brands in Africa. The Group has wholesale operations and local branches all over Africa.
For more than 40 years, Missionpharma has provided safe and affordable healthcare products to the African continent. We all take great pride in doing what we do to contribute to strengthening healthcare in Africa.

Kim Ginnerup, Vice Chairman of the Board, Missionpharma Group